Magnetic Wall Maps with Magnet Pins
Magnetic wall maps allow you to place pins to mark special locations on the map with magnet pins, a uniquely interactive way to enjoy a map.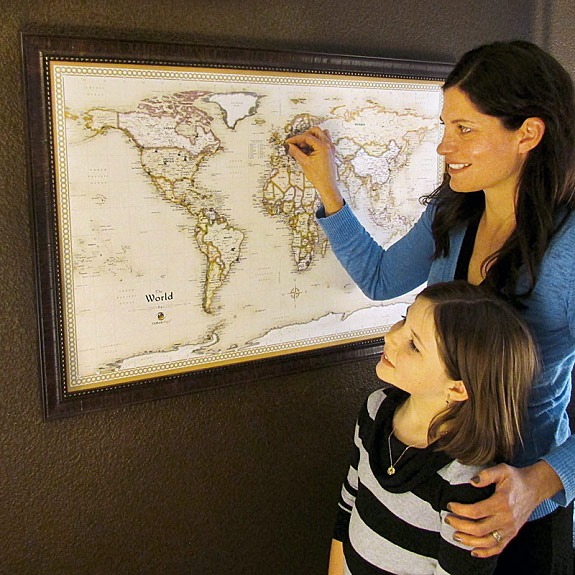 How to Order Magnetic Maps
Outlook Maps is a proud partner of Home Magnetics who handles all of our magnetic map production.
You can purchase our magnetic maps directly from the Home Magnetics website.
Magnetic Maps as Travel Maps
There's no easier way to mark the places you've travelled to than with a magnetic map. The magnetic pins can easily be moved and make a visual "check off" of the places you've visited.
Families with children especially enjoy our magnetic maps. The first thing Kids will want to do after returning home from a vacation is to add the magnet to the map of the places they saw.
The interaction with the map also really helps children (and adults) gain a better knowledge and understanding of geography.
Magnetic Maps for Family Locations
Another common use of magnetic maps is to keep track of the locations of friends and family members.
As family members are constantly moving, the magnet pins can be easily moved to keep the map up to date.
At a quick glance, you can see exactly where everyone is located, helping to figuratively shrink the distance between you and your loved ones.
Magnetic Maps for Business
In a fast past business environment where locations are often changing, magnetic maps can offer a unique solution to a wide range of mapping needs.
The flexibility of placing the magnets will allow you and your business to easily keep track of the locations of customers and clients, branch offices, stores, distribution centers, supplier networks, or a wide range of other business information.
Other Uses for Magnet Wall Maps
The uses of "pinable" magnet maps are virtually unlimited. The maps are durable and can be marked with the magnet pins anyway you want, and easily rearranged if needed.
We'd love to hear of any other interesting ideas or uses you might have for a magnetic wall map with magnet pins.
Further Questions on Magnetic Maps
If you have any further questions on magnetic maps, please contact us and we'll be happy to help.