Satellite Maps & Aerial Maps
Satellite maps, or "aerial maps", offer a unique perspective of geography: the aerial view of a satellite orbiting the earth literally hundreds of miles in outer space.
Our satellite maps use satellite imagery and data captured by NASA satellites, providing true images of the land as it actually appears from space. Our high-detail satellite images (cities and other small regions) are also extremely current. Most of the original satellite imagery was taken just months ago.
Unlike other satellite maps, our satellite images add 3-D shading of terrain to produce striking aerial images full of depth, allowing mountains and terrain to be much more visible than in traditional "flat" satellite maps.
Learn more about the technical details of these satellite maps.
World Satellite Maps
Satellite Views of Earth in Space
Continent Satellite Maps
Country Satellite Maps
State Satellite Maps
City Aerial Images
Aerial Images - USA Cities
Aerial Images - International Cities
Custom Satellite Maps and Aerial Images
Don't worry if you don't see a satellite map available for your particular country, city, county, or even town. We can produce any custom satellite or aerial map and make it available for purchase.
Please contact us and tell us about the map you'd like us to create.
Technical Details of Satellite Maps
There are two main sources of our data for satellite maps:
1. NASA Landsat
The NASA Landsat satellite imagery program (Landsat 7 and Landsat 8) captures aerial images of earth from satellites orbiting earth from approximately 438 miles. The satellites orbit the earth once every 99 minutes, and continually capture imagery with resolutions up to 15 meters per pixel.
2. NASA Blue Marble: Next Generation
The name "Blue Marble" comes from this famous image taken by the Apollo 17 mission in 1972: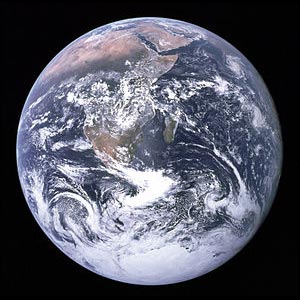 This is photograph is the most distributed image of planet Earth, and is among the most distributed and viewed photos in history.
The "NASA Blue Marble: Next Generation" project is a series of satellite images taken monthly during the year 2004. The resolution of the imagery is 500 meters per pixel, lower than Landsat imagery, but perfect for continents, large countries, and world-wide coverage area aerial maps.
Because the satellite imagery was taken monthly, it allows us to view the satellite map in an animated loop, as shown below: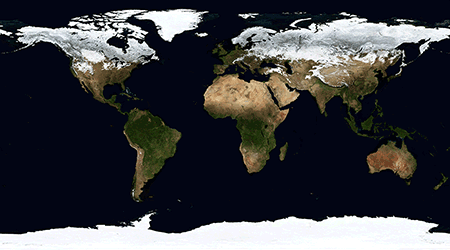 (click image for larger view)
This satellite image allows us to view the seasonal change throughout the planet, including the expansion and contraction of snow and ice in the north; the seasonal rains in Africa, South America, and Australia; and the seasonal browning and greening of temperate regions of Asia, Europe, and the Americas. Oceans are shown in a constant dark blue, so we are unable to see the seasonal expansion and contraction of the polar ice caps.
Processing of Satellite Imagery
Much work goes in to transforming the base images acquired from NASA satellites into the beautiful satellite maps that we publish. Our cartographers adjust the satellite images by cleaning up any defects caused by snow or cloud-cover, enhancing the imagery to show contrast and color, and adding 3D shading.