Map Finishing Options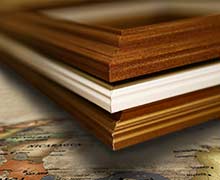 Standard Map Finishing Options:
All of our maps come with 5 different finishing options. Click the links below to see more details about each option.
Magnettic Maps
Magnetic Wall Maps that can be "pinned" with small magnets are also available for certain maps designs. See our Magnetic Wall Map page for more information.
Questions About Finishing Options
Please Contact us if you have any question about any map finishing options.