Framed Wall Maps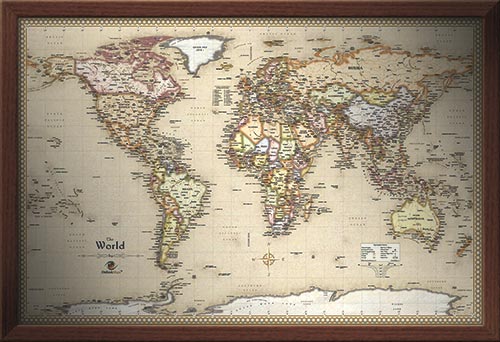 Framing your map will provide a touch of elegance and beauty to your wall map, and makes for an exquisite addition to the décor of your office or home.
All of our wall maps can be ordered as framed maps with any of the framing options below.
Map Framing Options
We offer 5 different map frame styles/options:
1. Walnut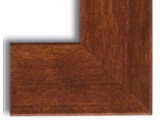 Walnut map frames are stained with a deep brown with a hint of red. Walnut frames provide a classic, high-end wood finish and will look great with most maps, especially antique style maps and political maps.
2. Black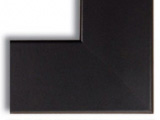 Black wooden map frames provide a familiar framed appearance. Black frames will compliment any map style to provide a clean appearance - you really can't go wrong with a black map frame.
3. Birch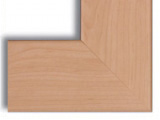 Birch map frames provide a natural wood appearance that will not overwhelm any map or room decor. Birch maps go well with most map styles.
4.Old World Silver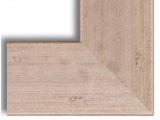 Old World Silver wooden map frames provide a very rustic look. The wood is light and has an aged appearance. Old World Silver compliments antique style maps well, but also goes well with any of our maps with dark backgrounds.
5.Aluminum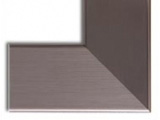 Aluminum map frames ("brushed aluminum", to be exact) are sleek frames and provide a modern/contemporary style. They look great with any contemporary maps or brightly colored maps and posters.
How To Order a Framed Map
Simply select the "framed map" option of your desired map size.
Once selected, you will be prompted to specify the frame style (Walnut, Black, Birch, Old World Silver, or Aluminum) prior to adding the framed map to your cart.
Please note that framing a map takes us additional processing time. Please view our current map production times.
Framed Map Sizes
Maps can be framed in a range of sizes, which varies for each map - from very small to very large. In fact, we offer some of the largest framed map sizes you can find: up to 22 square feet!
The map frames themselves are approximately 2 inches wide. This means that the total width and height of a framed map will be 4 inches more than the listed map size.
Price of Framed Maps
The price of the framed map will depend on the size ordered.
For maps which offer a tiny size option, framed map prices start at just $69.
For maps which do not offer a tiny size option, framed map prices start at $119.
See our Map Pricing page for all current pricing of all of our maps and options, including framed maps.
Framed Map Specifications
Frames are approximately 2 inches wide, as stated above.
Framed maps are mounted to 3/16" rigid foam board, and laminated prior to framing.
Framed maps can be "pinned" with office pins/tacks to mark specific locations.
Framed maps include a hanging wire for hanging on your wall.
Framed maps ship completely assembled and "hang-ready".
Framed maps now come with a box of 100 map pins (No. PM100MIX).
Shipping of Framed Maps
We will package your framed map in durable packing to ensure its safe and damage-free arrival to your door.
The shipping costs will be shown in your cart when you add the framed map(s) to your cart.
Tiny, Small, and Standard sized framed maps ship normally with modest increases in shipping cost compared with un-framed maps.
However, Large sized framed maps (44x72 inches, for example) must be shipped via domestic freight. View our large map shipping policy for more information.
Is a Framed Map Worth It?
We think so! But, the truth is it depends a bit on the use of the map and its location to be displayed.
We specifically recommend framed maps for the following uses and situations: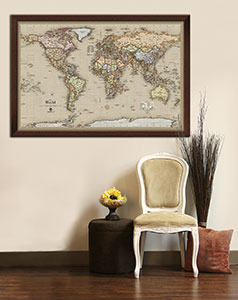 Home Décor
When displaying a map in your home office, den, living room, bedroom, or any other living space in your house, a frame can make all the difference. Framed maps make great decorative pieces that can be the focal point of your room, or simply blend in and add to the rest of your home decor.
Office or Business
Nothing presents an aura of professionalism quite like a nicely framed map. If you want to give the impression of quality and excellence in your business or office, a framed map is definitely the way to go.
When Displayed as Art
We make no secret of the fact that we focus on designing stylish maps that can be used for artistic display (in part because paper maps for navigation are dying out, and in part because we just love beautiful artistic maps). If you intend to display your map as a piece of art, a frame will help your map "pop" on the wall and look it's best.
"Where Customers are From" Pin Map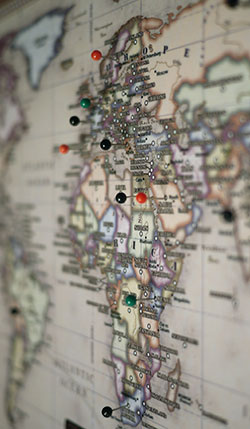 Since our framed maps can be "pinned" with office pins or tacks, a great use of our framed maps is to display them in a business or restaurant and let your customers pin their home-town locations. This gives your customers a way to interact with the environment in your business, and helps to show your businesses broad customer base...all while looking great on display.
Other Map Finishing Options Besides Framing
Our maps come in 5 different finishing options, framed map being one of those five.
The four non-framed options are:
Questions About Our Framed Maps?
If you have any questions about our framed maps, please contact us, and we'll provide any answers or information you need.