Maps with Hang Rails
Hang Rails offer a simple and inexpensive way to cleanly and professionally display your map.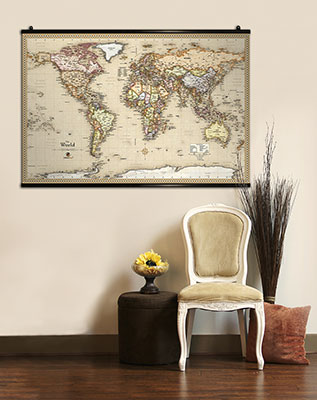 Purchase Hang Rails
| | |
| --- | --- |
| Description: | One Hang Rail SET |
| Includes: | TWO hang rails (top and bottom) and hang tabs |
Notes on Purchasing Hang Rails:
Choose length of a single rail (not the total length of both rails)
For rails cut between inches (45.5 inches), contact us and let us know the exact length.
If you want to buy hang rails with a map, shop our wall map selection and simply select an option that includes hang rails in the map purchase section.
How Map Hang Rails Work
Map hang rails are long rods which are assembled on the top and bottom of the map.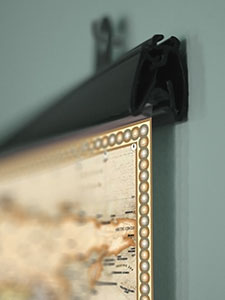 You can think of Hang Rails like a long "jaw" that "bites" down on the laminated map inside. The jaw can be opened to insert the map and then when the rails are closed, they securely clamp down onto the edge of the map.
Hanging tabs will also be included with your hang rails. These hanging tabs are to be inserted into the top rail, and used to hang the map. The position of these hanging tabs can be fully adjusted.
Once the rails are assembled and the hanging tabs are inserted, simply hang your map on your wall by securing small hooks or nails into your wall. Hang rails also give you the flexibility to hang the map from the ceiling in an open space, away from the wall.
Appearance of the Map with Hang Rails
When displayed with hang rails, your map will appear very professional. The black color of the hang rails will contrast nicely with our designs and help to create a framed look.
The hang rails also keep the map flat while on display, and avoid any curling of edges or corners.
Specification of Hang Rails
| | |
| --- | --- |
| Material: | Plastic |
| Color: | Black |
| Rail Length: | Cut to match the map Length |
| Rail Height: | Approximately 7/8 of an inch |
| Map Finish: | Laminated on both sides (front and back) |
How to Order Hang Rails with Your Map
You may order hang rails with any of our maps in our map collection.
Once you've found a map and are ready to add it to cart, simply select the option labeled "With Hang Rails".
For an even nicer touch to your map, you should consider having your map framed with one of our beautiful map frames.
More Hang Rail Map Questions?
Please contact us with any additional hang rail questions you might have, or with any other questions about our map finishing options.