Map Push Pins & Tacks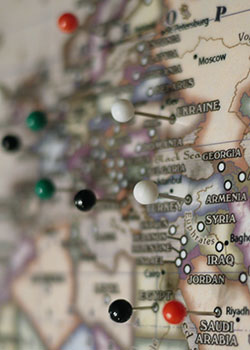 No ordinary office pins, our map push pins (sometimes called "map tacks" or "ball pins") are specifically designed for the purpose of marking places on a map. They are perfectly sized to identify cities, countries, towns, islands, mountains, or other places...while still allowing the map label to be read under the pin.
Any of our maps can be ordered either as a "pinable" mounted map or framed map, which are both compatible with map pins.
Furthermore, whenever you order a mounted or framed map from our map collection, we'll include a box of 100 map pins (PM100MIX) at no extra charge.
Order Boxes of Map Push Pins
Medium Sized Map Pins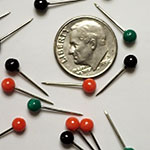 Tack head diameter = 4mm (a little larger than 1/8 inch)
Pin length = 15mm (approx 5/8 inch)
Image to left shows relative size of medium pins
Pin Color
Box Qty
Images


(click to zoom)

Part No.
Price
Purchase
Black
50 pins
PM50BLK
$4.99
Green
50 pins
PM50GRN
$4.99
Orange
(red-orange)
50 pins
PM50ORN
$4.99
Blue
50 pins
PM50BLU
$4.99
White
50 pins
PM50WHT
$4.99
Mix*
100 pins
PM100MIX
$5.99
*Mixed color boxes includes approximately 50% black, 25% green, and 25% red-orange.
Large Sized Map Pins
Soon, we will also be offering large map pins (7mm head diameter).
Shipping of Map Push Pins
Shipping cost (domestic):
| | |
| --- | --- |
| $5.99* | 3 boxes of pins or fewer |
| $9.99 | More than 3 boxes of pins, or when ordered with a map |
*Discount from flat $9.99 shipping will be applied during checkout.
Technical Details of Map Pins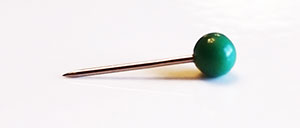 Our map push pins are made from high quality stainless steel.
The color of the pin comes from the spherical ball of plastic that is molded to the top of pin.
The pointed end of the pin (tack) is sharp enough to puncture through various map surfaces.
Pinable Surfaces

These pins are perfect to use with our mounted and framed maps which use a rigid foamcore backing. Puncturing the foamcore surface is easy and the pins stay secure.
Additionally, our map pins can also tack other common materials like corrugated cardboard, corkboard, and gatorboard. With and a bit of effort they can even be used to tack many types of wood.
While we don't recommend pinning directly to a wall, the push pins can also easily puncture plaster and drywall.
Uses of Maps with Map Pins
While there are thousands of uses of map pins, the most common uses are:
Travel maps - marking past and future travel destinations
Family maps - marking the locations of friends and family
Maps for customers (of a restaurant, for example) to mark their home locations
Business maps - marking locations of stores, offices, distribution, customers, etc.
Maps for organizations to mark the home locations of members
Gifts! All of out maps can also be personalized too. Combining a personalized map with map pins makes for excellent gifts for many occasions.
Contact
Go ahead and contact us if you have any further questions on the details or function of our map push pins and tacks.