Colorful Topographic Maps (Topo Maps)
These breathtaking topographic maps display the contours of terrain by showing elevation in vibrant colors. Even seemingly flat places come to life when displayed with this topographic map style.
The brightly colored land is also enhanced with vivid shading, giving the topo maps a distinctly three-dimensional feel.
No maps capture the natural beauty, quite like these colorful topgraphical maps. Mountains, hills, river valleys, canyons, and other physical features seem to jump right off the page.
Learn more about the creation of these topo maps.
World Topographic Maps
State Topographic Maps
Creating Topographic Maps
Data for Elevation Maps
The source of all of our topographical maps is digital elevation data obtained from radar from outer space - namely the SRTM (Shuttle Radar Topography Mission) that captured data aboard the space shuttle Endeavor.
The data created is stored in files called DEMs, or Digital Elevation Models. These models store specific elevation values in a pixilated map of the area, where each pixel represents an elevation.
Here is an example of a DEM elevation map of the continental USA. The data is displayed in grayscale with the highest elevation colored white and the lowest elevation colored black.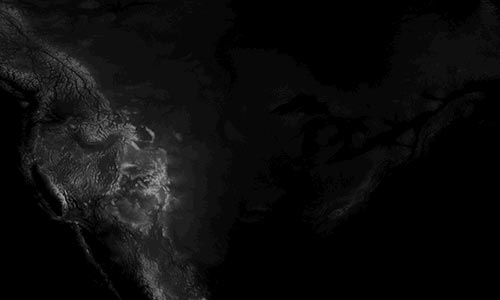 Creating the Topographical Images
Through use of proprietary software, our cartographers can transform this DEM data and produce breathtaking topographic maps and images.
The first step is to assign colors according to elevation. Typically, a color scale will be assigned such that green represents low elevation; yellow and orange represent mid level elevation, and purple and white represent the highest elevation. These colors produce a somewhat familiar and natural.
Here is a sample of a colored DEM. This particular image comes from data used to create the California Topographic Map:
As you can see, the colored topographic map image above lacks any sense of depth or dimension, and appears completely flat.
The second step is to create a three-dimensional shaded relief of the terrain. Again, this is accomplished using proprietary software that actually simulates a 3D model of the elevation map data and assigns shading and reflectance to the terrain based on the contours of mountains and other elevation changes.
Here is a sample of the same California DEM data that has been digitally assigned shading and reflectance (shaded relief):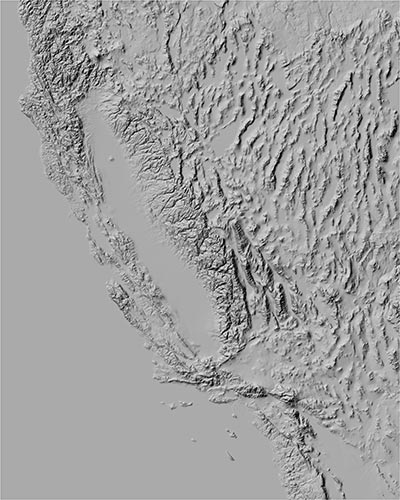 This image clearly shows the three-dimensional depth of California's mountains, but lacks any color.
The final step is overlay the two layers. This step uses advanced graphic design software and produces the breathtaking topographic images used in the topo maps available to purchase.
These topographic maps can also include other map details, such as cities and towns. Be sure to check the specific map above to see the level of detail included with that particular map.
Other Physical Map Styles
In addition to our topographic maps, you may also be interested to check out these map collections, which also display the physical features of the land.