Pinboard Mounted Maps
Our "Pinboard Mounted" maps are mounted to a 3/16 inch foam board backing for rigidity, professional appearance, and the ability to be tacked with pins.
Now, when you order a mounted map, we'll include a box of 100 map pins - making a great pinable map set for a wide range of uses.
How to Order Mounted Maps
All of our maps can be ordered as mounted maps, so you should first browse our map collection to find the map you're interested in ordering as a mounted map.
Once you've selected your map, simply select the "Mounted" option to add you your cart.
You can also learn more about the other finishing options that we offer with each of our maps, including map framing.
Mounted Map Specifications
Map is mounted to a 3/16 inch foam-core board backing.
The front of the map is laminated AND the back of the foam board is laminated. This lamination protects the map from the elements and provides additional rigidity.
The foam boards come in original sizes of 92" x 48", so any map size which will fit on this size board can be mounted. This includes the map sizes:

Small
Medium
Large (standard)
Huge
Note: Mural sizes may not be mounted because size of the foam board is exceeded.

Map push pins are now included with every mounted map order - turning any of our maps into a pinable map set.
Additional quantity and colors of map pins can be ordered here.
Pinning Mounted Maps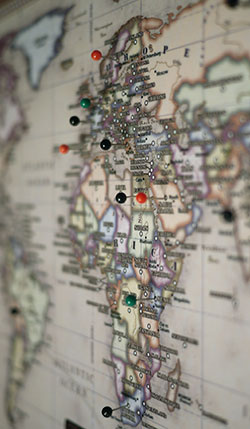 The most common use of mounted maps is to be pinned with map pins and tacks. This allows you to quickly and easily mark specific locations on the map and even use different colored pins to color-code the locations you'd like to mark.
Pinable mounted maps also allow customers of a store or restaurant, or members of a group to mark the locations of their home town. These types of maps offer a great way for people to interact with the store/restaurant and also lets them "leave their mark" for future people to see. It also gives customers a sense of the scope of your business and lets them see the home town of previous customers or patrons.
For personal maps, you can pin the locations of your family members, vacation destinations (both past and future destinations), places that you've lived, or all the places you've visited.
For businesses, you can pin the locations of different branches, stores or retail outlets, customers or clients, distribution centers, or anything else to help visualize important business or company information on your map.
Other Uses of Mounted Maps
The mounting of maps is often useful for the display of the map and makes them easier to hang or re-hang on a wall.
Mounted maps also look much more professional than paper maps, as the additional thickness of the backing makes them feel durable, and they will display perfectly flat with no rolled corners or creases.
Mounted maps also work perfectly for presentations or any other time they are to be displayed on an easel.
Price of Mounted Maps
The price of mounted maps depends on the size ordered, and the prices are listed on the map order pages.
You can also view our current pricing of mounted maps and other finishing options at our Map Pricing page.
Shipping of Mounted Maps
We will package your mounted map securely prior to shipping, so you can rest assured that your mounted map will arrive at your door without any damage.
Because the mounted maps must ship flat, shipping large sizes of mounted maps may present limitations of shipping options, especially for international shipping.
Please refer to our large map shipping policy for more information about shipping of large mounted (and framed) maps.
More Mounted Map Questions?
Please contact us with any additional questions about mounted maps, map finishing, or any other questions you might have.